West, Kirkland & Allied Families
Southern Genealogy at it's Best
marriage records
ancestral places
Newsom's Mill, Williamson County, Tennessee. Photos courtesy of Rudy Nothdurft Jr. My Newsom ancestors moved from Virginia to Tennessee by about 1799.
John Chilcoat, * (1758-1851) Memorial Marker, Florence, Missouri. Photos taken at NSDAR and S.A.R. grave marking service in 2002.
Gieger Cemetery, Covington County, Mississippi (includes directions and photographs). Information and photos courtesy of Gerry A. Gieger.
cite your sources!
If you use material from my site, please cite as follows: Patricia A. West, "Document title goes here," St. Louis: Unpublished manuscript, 2006, at West, Kirkland & Allied Families, www.websitewiz.com/genealogy/.
Linking to this site:
Please use the following link, instead of linking to individual pages, because page names change.:
http://www.websitewiz.com/genealogy/
The link above will ALWAYS take you to my genealogy website.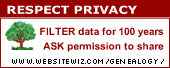 family records
These files are available to download on the family records page. [Go here to download Adobe® Acrobat Reader®.]
Old family photos are included in all of these files.
bible records
probate records & obituaries
ancestor sketches
* Revolutionary War Soldier