West, Family, Family & Allied Families
Southern Genealogy at its Best
ahnentafel chart use
Multiply any number by 2 to get that person's father. Add one to the father's number and that number is the same person's mother.
Spouses are consecutive numbered pairs, with the husband having the lower number of the two numbers. Thomas Hudson William is #10 and his wife is #11.
Missing numbers are unknown or not proven ancestors.
cite your sources!
If you use material from my site, please cite as follows: Patricia A. West, "Document title goes here," St. Louis: Unpublished manuscript, 2006, at West, Kirkland & Allied Families, www.websitewiz.com/genealogy/.
Linking to this site:
Please use the following link, instead of linking to individual pages, because page names change.:
http://www.websitewiz.com/genealogy/
The link above will ALWAYS take you to my genealogy website.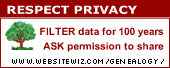 12-generation ancestor chart
Below is an Ahnentafel chart, which is a concise way to show relationships. Directions for reading this chart are in the next column to the left.
The first three generations—me, my parents, and my grandparents—are omitted for privacy.
Documents on this site are linked to the names below, as well as on the Family Records page..
Last updated March 2006.
generation 4 (great-grandparents)
8 The Rev. Joseph Samuel West b. February 27, 1865 LA; d. June 7, 1927 OK
9 Cynthia Anna "Anna" Montgomery b. 21 August 1869, GA; d. September 6, 1900 OK
10 Thomas Hudson Williams, C.S.A, 1st Texas Calvary; b. December 23, 1832 TN; d. September 7, 1913 TX
11 Mary Ann Simmons b. February 29, 1840 MS; d March 30, 1925 TX
12 Robert Archibald Kirkland b. October 31, 1848 AL; d. January 27, 1939 AL
13 Mary Emily "Molly" Masterson b. November 7, 1858 AL; d. September 5, 1934 AL
14 Thomas Roberts Morton b. December 15, 1865 TN; d. March 13, 1907 AL
15 Alice Eugenia Gilbert b. January 15, 1867 TN; d. March 14, 1919 AL
generation 5
(great-great Grandparents)
16 Benjamin Franklin West, La. infantry, C.S.A.; b. November 1, 1830 MS; d. 17 January 1925 OK
17 Lucinda Geiger b. 15 Mar 1835 MS, d. 17 Jan 1925 OK
18 Absalom Purnal Montgomery Jr, b 10 October 1849, GA; d 19 Feb 1913 OK
19 Cynthia M. "Hulda" Connor, b 1850, GA & d aft 1888, GA
20 _____ Williams b. circa 1810; d. ca 1832 TN
21 Mary "Polly" Newsom b. circa 1814 TN; d. after 1865 AR?
22 The Rev. James H. Simmons Sr. b. February 15, 1801 NC; d. April 15, 1879 TX
23 Edith Arminda Sparks b. August 15, 1810 GA; d. March 2, 1897 TX
24 Daniel G. Kirkland, served Seminole Indian Wars, b. February 22, 1814 TN; d. January 24, 1897 TX
25 Tabitha Helene Yearby NC b. September 17, 1818; d. March 21, 1864 AL
26 John Patrick G. Masterson b. 8 Mar 1824 AL; d. 3 Apr 1865 AL (killed during slave revolt at end of Civil War)
27 Matilda Clementine "Money" Roberts 15 Feb 1825 AL; d. 2 Nov 1906 AL
28 William C. Morton b. May 27, 1829 TN; d. July 24, 1911 TN
29 Sarah M. Gilbert b. April 21, 1834 TN; d. May 5, 1901 TN
30 Washington A. Gilbert b. 28 May 1839 TN; d. 8 August 1898 TN
31 Margaret T. Sorrells b. November 19, 1846 TN
generation 6
32 Shadrach Nelson West b. February 14, 1802 SC; d. October 1891 TX
33 Penelope Moody b 28 Dec 1805 SC; d 20 Jan 1871, Jackson Co.(?), TX
34 Jesse Geiger b. 20 Mar 1793 GA; d. 20 Oct 1871 MS. See also his will.
35 Tabitha Martin b. 22 Jul 1793 GA; d 17 Nov 1871 MS
36. Absalom Purnal Montgomery Sr., b ca 1816, GA & d aft 1880
37. Martha Jones, b 1838, GA & d by 1865, GA
38. Samuel M. Connor, b 1830 GA & d ca 1863/4, GA
39. Sophia A. Lawrence, b 1829, GA; d bef july 1891, Ark.
42 Balaam Newsom, b 26 May 1756, Va.; d 13 Dec 1840, TN. See also photos of Newsom's Mill, outside of Nashville, and a sketch of Balaam Newsom..
43 Elizabeth _____ b. circa 1770; d. after 1840
44 Jesse Simmons
45 Charity _____
46 William Sparks,, Rev. Soldier, b. 1761 NC; d. 1848 TX; to TX 1833/4; passport to pass through Creek Nation granted to him (with wife and 5 chn) in 1811 in GA. Settled then in MS and went to Texas in 1846.
47 Mary Fielder b. circa 1761; d TX
48 Archibald Kirkland b. circa 1780 SC; d. circa 1846 AL
49 Mary Chaney b. circa 1780 VA; d. before 1850 AL
50 Amon Yearby Yerby NC b. circa 1789; d. July 1861 AL
51 Rachael ?Chester/Dodson b. 1798 TN; d. AL
52 John Patric Masterson b ca 1785; d ca 1835
53 Margaret "Peggy" Cunningham d AL aft 1840
54 Major Matthew Roberts b. 20 Aug 1797 NC; d. 8 Jul 1882 AL; Sheriff, Lawrence Co., AL
55 Susan/Susannah Wells b. 10 Sep 1802 KY; d. 1 Jan 1888 AL
56 John C. Morton Sr. b. October 9, 1806 TN; d. May 23, 1879 TN
57 Susannah Roberts b. June 23, 1807 SC; d. September 30, 1891 TN (sister of 59, 61 below)
58 John C. Gilbert Sr. b. circa 1810; d. before 1850 TN (brother of 60 below)
59 Rachael Roberts b. March 7, 1812 GA; d. August 1, 1898 AL (sister of 57, 61 below)
60 D.A. "Doc" Gilbert b. 6 January 1821 TN or NC; d. 19 February 1902 TN (brother of 58 above); compensated by U.S. government for four horses taken by Union troops during the Civil War.
61 Lucretia Roberts b. October 7, 1820 TN; d. March 24, 1893 TN (sister of 57, 59 above)
62 William Sorrells (I) b. 1810 GA; d. September 10, 1857 TN. See also a sketch.
63 Eleanor M. "Nellie" King b. circa 1824 TN; d. March 19, 1892 TN
generation 7
64 William Nelson West b. 31 July 1775 NC; d. 25 Oct 1846 MS
65 Ailsey Rogers b. 1784 SC; d. 1864 Ark.
68 Abraham Geiger Sr.b. 11 Jun 1761; living in GA when chn. were born.
69 March (Mary?) _____ b. 24 Apr. 1771
70 James Martin b 1756
71 Mary _____ b 1764
84 William Newsom b about 1730 VA; d. circa 1800 VA or TN
85 Elizabeth (possibly Knight) b. about 1740; possibly moved to TN around 1800 from VA
92 Matthew Sparks b. circa 1730 d. 1793 GA. Killed in Creek Indian raid on Sparks Fort. His estate was awarded $1,428.10 for "Indian depredations" in 1835.
93 Sarah (?Thompson) b. circa 1740; alive 1832 in TN when two sons were appointed her lawful attorneys. Buried with the piece of shirt the ball went through when her husband was killed.
94 William Fielder b 1748 VA
96 John Kirkland b. circa 1760 prob. Scotland; d. circa 1800 SC or TN (See also info & a Bible for his daughter, Nancy K. Blevans.)
97 Mary Delot / de Lot b. circa 1760; her father said to be from Scotland
100 Everette Yerby b circa 1762 NC; d 1823 AL
101 Sarah McMillan b 1766 NC
106 James Cunningham
107 Jane McWhorter b ca 1760 SC, d 1829 AL
108 John M. Roberts b. 28 Dec 1779 NC; d. 23 Jun 1852 AL
109 Sarah Gheen b. 16 Jun 1777 NC; d. 11 Nov 1838 AL
110 Alexander Wells, b ca 1789, d bef 1815 when his father's will was probated
111 Anne Chilcoat, b ca 1780, d bef 1815
114 John Roberts Sr. b. circa 1765 VA; d. after 1850 TN (See also his will.) See also his family Bible.
115 Sarah Smith b. November 16, 1774 NC; d. after 1850 TN
116 The Rev. John Gilbert b. est. 1786 NC, d. June 1842 TN
117 Sarah (possibly Bourland) b est. 1786 d. after 1842
118 John Roberts Sr. (redundant, same as 114)
119 Sarah Smith (redundant, same as 115)
120 The Rev. John Gilbert (redundant, same as 116)
121 Sarah (possibly Bourland) (redundant, same as 117)
122 John Roberts Sr. (redundant, same as 114)
123 Sarah Smith (redundant, same as 115)
126 Ephraim King (Jr.?) b. circa 1785 SC; d. 1845 TN
127 Jane Harkins b. circa 1789 SC; d. before 1864 TN
generation 8
130 Shadrach Rogers b circa 1757 SC; d. circa 1827/8 MS
131 Hope Bethea b circa 1760 SC; d after 1834 MS
136 Hans Ulrich Geiger b 1729 Switzerland; d 1777 GA
137 Appolinia _____ (?) b est. 1735
138. John Martin
158 Anthony Pilkington
159 Rebeca Barker, b bef 1802
168 Sampson Newsom b 1710-15 VA; d 1779 VA
169 Mary _____
184 William Sample Sparks 1705 MD, d aft 1764 NC
185 ?Rachel _____
200 William Yerby b ca 1730/40
201 Margaret ____
202 James McMillan b ca 1730/40 NC
203 Mary Brown
214 Hance McWhorter b ca 1730, d ca 1773; served NC militia in French & Indian War
215 Sarah Winslow b ca 1730, d bef 1783
218 James Gheen, Rev. Soldier from NC, b. circa 1740; d. 1796 NC; cabinetmaker & farmer. See also his will.
219 Elizabeth _____ b. circa 1739; d. 25 Oct 1832 NC
220 Richard "Tidley" Wells, Jr., Rev. War Soldier from PA, b ca 1752; d 1814.
221 Honor Holmes, b 1755; d bef 1780.
222 John Chilcoat, Rev. Soldier from PA, b 27 Nov 1758 MD; d 10 Jul 1851 MO. See also photos from his grave marking ceremony.
230 John Smith Sr. b. January 23, 1752/1753; d. January 12, 1816 TN
231 Elizabeth Simpson b. circa 1750; d. March 2, 1816
232 William Gilbert b 1735 Ireland.; d 1790 SC
233 Sarah McCandless, b 1727 PA, d 1822
238 John Smith Sr. (same as 230)
239 Elizabeth Simpson (same as 231)
240 Richard Wells, Sr. b 15 Mar 1721/2 MD; d 12 Sept 1808 OH
241 Nancy "Ann" Brown, b ca 1723; d bef 1766
246 John Smith Sr. (same as 230)
247 Elizabeth Simpson (same as 231)
generation 9
272 Abraham Geiger b 1689 Switzerland; d 1766 GA
273 Cathrina Schellig b 1688 Switzerland
318 Shadrach Barker
336 Thomas Newsom b 1685/6 VA; d 1745/6 VA
337 Elizabeth Crafford or Crawford b 1685 VA, d 1755 VA
368 William Sparks Jr. b ca 1674 MD, d ca 1735 MD
369 Margaret Sample b ca 1676, d bef 1730 MD
404 Alexander McMillian
405 Phebe _____
428 John McWhorter b ca 1725, prob Ireland; settled Rowan Co., NC; d 1795 NC
429 Mary _____
430 Benjamin Winslow, b 1796; d 1759 NC
440 Captain Richard Wells Sr. b 15 Mar 1722; d 12 Sept 1808 OH
441 Nancy Ann Brown b ca 1723; d 1766
442 William Holmes b 1715 d 10 Mar 1758
443 Honour Wells b 10 Dec 1724; m2 Col. Richard Brown
444 Robinson Chilcoat b 8 Dec 1739 MD,
445 Ann _____
460 William Smith Sr. b ca 1728
480 James Wells II, b 1685; d 1 July 1771, Baltimore, MD
481 Ann _____ d aft 1773, MD
generation 10
544 Hans Gyger b 1650 Switzerland
545 Anna Feer/Fehr b 1650 Switzerland
546 Hans Schellig b 1660 Switzerland
547 Verona Kallenberger b est. 1660 Switzerland
672 William Newsom II b 1648 in VA; d 1691 VA; m 1669 VA
673 Anne Sheppard b circa 1645 VA; d 1711 VA
674 Robert Crafford or Crawford, first appears in VA records in 1682/3; b ca 1660; d 1714/5 VA
675 Elizabeth Carter d between 1704 and 1708/9 VA
736 William Sparks Sr. b 1646 ENG; d 1709 MD
737 Mary _____
738 William Sample, b ENG; d 1682/3 DE
739 Josine Boyer/Boeyer, b Holland; naturalized 1682/3. Three husbands.
856 Hugh McWhorter b prob Ireland ca 1690. To America ca 1730. Settled Pencader Hundred, New Castle Co., DE; d 1749/50
857 Jean _____
880 James Wells II b 1685; d 1 July 1771 MD
881 Ann ____ b ca 1690; d ca 1773 MD
886 James Wells II b 1685; d 1 July 1771 MD (same as 880)
887 Ann ____ b ca 1690; d ca 1773 MD (same as 881)
888 John Chilcote I b 10 Apr 1706 MD; d 1788 MD
889 Margaret _____, ca 1739; d ca 1795
generation 11
1088 Abraham Gyger b 1619 Switzerland
1089 Elsbetha Fenck b est. 1620 in Switzerland
1090 Jacob Feer/Fehr b ca 1625 in Switzerland
1091 Catharina Prassler b ca 1625 in Switzerland
1344 William Newsom I, b about 1614; d 1657-67 VA first granted land in James City, VA in 1636.
1345 Elizabeth Wilsonn [wife (3) of Wm Newsom in 1636] OR Gertrude _____ [wife (4) of William Newsom]
1346 Major Robert Sheppard b 1604 ENG, d 1653/4 VA; Lt., Capt. & Major in Militia; Justice of Surry Co.; and Burgess from Surry Co. 1646-1648.
1347 Elizabeth Spencer b after Muster of 1624 VA; d 1655-59 VA
1350 George Carter b ca 1638 VA; d 1664/5 VA
1351 Mary ____; alive in 1674 VA; d by 1678/9 VA
1472 Thomas Sparks b ca 1615 ENG; d bef 1707 ENG
1473 Joane Davis b ca 1619 ENG
1776 Humphrey Chilcote b ca 1675; d ca 1708 MD
1777 Margaret Tindall
generation 12
2176 Hans Gyger b ca 1580 Switzerland
2177 Anna Zust b 1577 Switzerland
2692 William Spencer, Yeoman & Ancient Planter in VA; Resided at James Island in Muster of 1624/5 with wife Alice and daughter Alice. d ca 1637/8 Va.
2693 Alice _____ alive in Muster of 1624 in VA.
2700 William Carter b 1600 ENG; d 1654/5 VA; in Muster of 1624 on James Island, VA
2701 Alice Croxon b 1599 ENG; d abt 1670 VA