West, Family, Family & Allied Families
Southern Genealogy at its Best
cite your sources!
If you use material from my site, please cite as follows: Patricia A. West, "Document title goes here," St. Louis: Unpublished manuscript, 2006, at West, Kirkland & Allied Families, www.websitewiz.com/genealogy/.
Linking to this site:
Please use the following link, instead of linking to individual pages, because page names change.:
http://www.websitewiz.com/genealogy/
The link above will ALWAYS take you to my genealogy website.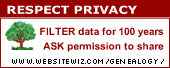 william nelson west (1775-1841) family book
The books includes all known descendants of Asley Rogers West and William Nelson West who moved from South Carolina before 1818 to southern Mississippi.
Descendants and Family History of the William Nelson West (1775-1846) Family, by the Karen West Scott. Scott's research on the West family spans almost 30 years and includes data gathered by both earlier and contemporary researchers. The geographic research includes Virginia, South Carolina, Mississippi, Louisiana, Arkansas, Texas and Oklahoma as the family moved west.
433 pps, 100 photos, narratives, military appendix, cemetery appendix, every name index. #S160; $44.50.
Order your copy and copies for younger family members now at Heritage Books. Call 1-800-398-7709.
Shadrach Nelson West, b 14 February 1802 SC, son of William Nelson West & Alsey Rogers West. (Photo credit: Karen West Scott)
west surname dna project
Our "brick wall" is William Nelson West, b 1776. The West Surname DNA Project has helped to find another West family we are related to, that of James C. West, b ca 1809 in SC, and who migrated to Mississippi (via Ga., Ala., and Fla.). We have a 25/25 marker match on Y-DNA. We are now working to find the "most recent common ancestor."
All males with the surname of West are invited to participate in this project. Two male descendants of William Nelson West have given a DNA sample. I especially encourage men whose West ancestors are from South Carolina, North Carolina, Virginia, Scotland, Ireland, and England, to participate. The more men from different West lines who help, the more likely we are to find distant cousins.
More information about DNA surname projects and how they can help genealogists is at Family Tree DNA. Search for existing DNA surname projects, and read the FAQ.